Phil Dreizen
Star Trek 2009 - Spock the killer
...but Kirk says that in order to stop Nero they must go after him first. This culminates in an argument which ends in Spock ordering Kirk's removal from the bridge. When Kirk physically protests, Spock incapacitates Kirk and places him in an escape pod and jettisons him off the ship. Kirk awakens to find himself on the snow-covered world of Delta Vega, another planet in Vulcan's system. Picking up his gear, Kirk heads for the Starfleet station fourteen kilometers away.
Of all my problems with Star Trek 2009 this is the one that bothers me the most. In many ways the movie works as a servicable action movie with some clever fan service for trek fans. But this here might break it for me.
It all happens so fast, you might not have had time to think about it as it happened. Spock has an argument with Kirk and instead of doing something as drastic as throw him in the brig (jail), instead launches Kirk out of the Enterprise onto a Hoth-like icy barren hellscape - one where Kirk can only survive through, as far as I can tell, sheer luck. Before the audience even has a chance to process Spock's villainous deed, one in which he essentially condemned Kirk to hypothermia and eventual death, Kirk must escape from 2 gigantic monsters that want to eat him (I assume).
I think the movie wants to sell the relationship between Kirk and Spock as being akin to two boys fighting in a school yard who later make up with each other and end up being chums. A coming of age story. What happens instead is that a person who supposedly follows a philosophy of peace leaves another person to freeze to death over a disagreement about what to do next with the Enterprise. How...logical?
So, Kirk escapes the monsters to find Nimoy-Spock living in a cave on the Hoth planet. The stretch of believability asked of the audience here, that Nimoy-Spock was just waiting in this particular cave, is difficult to fathom (of all the caves, in all of the planet, in all the galaxy, in all the timelines, he walks into mine?). The movie's fast pacing is designed, I think, so that the members of audience don't have time to think about it much. But I ask you: if you wrote this stuff, would you be embarrassed?
But far more egregious to me is that this scene between Pine-Kirk and Nimoy-Spock is meant to establish Pine-Kirk's friendship with Quinto-Spock. Which is terrible for at least 2 reasons. The first, as I keep mentioning, is that Quinto-Spock just abandoned Pine-Kirk to die. It's a nearly unforgivable act. You could end the movie here and make a sequel. One in which Kirk, after escaping from the barren wasteland that is Delta Vega, is consumed by his thirst for revenge, and seeks to destroy Spock (he tasks me and I shall have him!) We could call it "The Wrath of Kirk".
The second reason this scene is terrible is that it epitomizes the laziness of the movie. See, the movie doesn't have to do any work to build the friendship between Kirk and Spock. Instead the Nimoy-Spock tells the Pine-Kirk about the friendship that grows between the characters Kirk and Spock in the 6 movies and 2 television series the characters have appeared in previously. That's hours of story and character building that Star Trek 2009 can now skip. Pine-Kirk, and the audience members, need all they need to know, apparently. Spock and Kirk are supposed to be friends. That's all the relationship building the movie really does. After the meeting with Nimoy-Spock, Kirk is determined to be friends with Quinto-Spock. The guy who just left him to die on an ice planet. I guess Pine-Kirk thinks it's okay, because in an alternate reality some old guy just told him about, they're bff.
By the way: it is possible that Spock knew about the Starfleet base on Delta Vega and left Kirk on the planet knowing that Kirk could find his way to the base. I suppose then that he chose not to transport Kirk directly to the base with transporters...as a joke? I have to suppose that the human devouring monsters completely eluded the Enterprise sensors because...it's really cold down there?
</RANT>
Phil Dreizen
November 2013 - Board Game mini-Reviews
This past month I played quite an overwhelming number of games, many of them new to me. The month started with a Halloween board game party, and included quite a bit of civilization games. Here I list some of the notable ones that I remember and some "brief" thoughts on them. I'll expand some of these into longer reviews in the future, but I wanted to get something down now while still fresh.
Phil Dreizen
Shinzon Considers a Word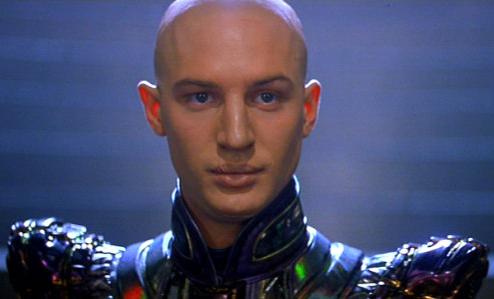 After seeing a few requests for There's a word I want you to consider in the ol' apache logs, a few from old forum posts about Dark Knight Rises that have seemed to disappear off the web, I decided to bring Shinzon and Donatra back.
Praetor Shinzon: There's a word I want you to consider: Allegiance. It's something I demand from those who serve me.
Commander Donatra: Do I serve you?
Praetor Shinzon: Yes. And I think, faithfully. Commander Suran on the other hand... gives me pause.
Commander Donatra: Here's another word, Praetor: Trust. Do you trust me? How far does that trust extend? How... deep... does it go? What must a commander do to prove herself faithful to you? What must a woman do?
[she stretches her hand out to touch Shinzon's face, but he snatches it away at the last moment]
Praetor Shinzon: You... are not a woman. You are a Romulan.
But also:
Praetor Shinzon: There's a word I want you to consider: backstretch
Commander Donatra: Here's another word, Praetor: Idahoan
That link again is: http://kupad.net/theresawordiwantyoutoconsider/
Phil Dreizen
review: Star Trek III: The Search for Spock
Summary: An underratted movie that deserves more praise.
*spoilers* *this post has spoilers*
The general opinion is that, for most of the Star Trek movies, the even numbered movies are very good, and the odd number movies are very bad. (see: Star Trek Movie Curse). I've tended to agree: Wrath of Khan, Voyage Home, Undiscovered Country, and First Contact are all movies I like. I recently rewatched Star Trek III two times in the span of a month - and I liked it more than I thought I would. I think it's evidence that the Curse isn't real.
The movie opens shortly after the previous one ended. The Enterprise is returning to Earth to recover from its recent battle with Khan. Kirk is miserable about Spock's death, and McCoy seems to have coped by going crazy. To make things worse, upon arrival at Earth, they learn the Enterprise is going to be decomissioned - so soon after Spock sacrificed himself to save it.
A surprise visit from Spock's father, Sarek, reveals that Vulcans can dump their memories (or "katra") into nearby living beings before they die. Sarek appears about as angry a Vulcan can be, because he believes Kirk shouldn't have abandoned Spock's body on the Genesis Planet. To see if Spock might have dumped his memory into Kirk, the two mindmeld, and we're treated to a great scene in which Kirk relives Spock's final moments. Kirk's whimpering "No..." as he relives his helplessness is something we never get to see our heroes do in traditional action movies. Usally such pain would be accompanied by anger and frustration - so that the hero appears powerful instead of weak. But between Wrath of Khan and Search for Spock, we get to see Kirk showing the rawest, purest kind of pain, multiple times - and Kirk becomes a more compelling character for it. Shatner is really good at pulling these scenes off - he really deserves more credit as an actor.
It turns out Spock's katra isn't in Kirk at all. Instead McCoy's bizzarre behavior is due to having to keep all of Spock in his head. And so we have our story: to honor their friend's memory and customs, Kirk and McCoy must go to the Genesis Planet to fetch Spock's body and return it to planet Vulcan, along with his katra. Standing in their way is the Federation, who incompetently is restricting access to the Genesis planet to everyone other than a helpless science vessel commanded by a sheepish captain. There's also Kruge, a (rogue?) Klingon captain who wants to learn the secret of the Genesis missile.
Kirk and crew steal the Enterprise to get to the Genesis Planet in a sequence that exemplifies what makes the original movies so much fun to watch. As an audience, we know they'll be successful getting the ship out - so the film chooses to make the escape funny and casual instead of working off of manufactured tension and suspense.
Meanwhile, on Genesis, Saavik and David Marcus (Kirk's son) beam down to investigate an unexpected life sign, and discover Genesis has regenerated Spock, but he's an empty shell - a rapidly aging young clone of Spock with none of his memories. They also learn that the Genesis Planet isn't going to be around much longer. Soon after this discovery, Kruge arrives at the Genesis Planet (before Kirk does), destroying the poor science vessel the Federation left to fend for itself.
Kirk and Kruge face off. Kirk wins. But in the process he loses the Enterprise, and he loses his son. By 2013, blowing up the Enterprise is practically a Star Trek movie tradition. But here, this is the original Enterprise - the one we watched in The Original Series. (NCC one seven O one. No bloody A, B, C, or D*) It's a big deal, and effectively done. And the special effects for the explosion are apporopriately dramatic. Kirk, McCoy, the crew, and the audience watch as the Enterprise crashes into the dying Genesis Planet. And while David was never a character I was attached to, his death is lent power by the way it's filmed and by Shatner's performance. When David dies we hear no music - just the brutal sound of his being stabbed and his dying grunt. There is no music either as Kirk learns David died, and falls to the ground, shattered, crying, and impotently repeating "Klingon bastards, you killed my son."
In the finale, Spock's empty clone - now conveniently the same age as the original Spock was when he died - is returned to Vulcan, and a Vulcan ritual (influenced by the TOS episode Amok Time) is performed that puts Spock back together. The movie ends as Spock is reunited with his fellow crew members, and there's just a lot of love and joy in the reunion.
At the end of all this we end up with Spock, alive, and mostly well. If anything, THIS is the movie's flaw. Bringing Spock back cheapens the impact of his sacrifice in the previous movie, even if the contrivance to get it done was well executed and mostly fit into the Star Trek Universe.
As to the contrivance itself - the Vulcan katra: how is it that humans didn't know about it by the time the movie takes place? Also, why would the Vulcans be interested in retreiving the dead body of Spock - you would think only the katra itself would have mattered..
Finally, it's also worth noting that Search for Spock is responsible for introducing a lot of things into the Star Trek canon. Including:
The Excelsior class vessel, which seems to be the workhorse ship of Star Fleet in TNG
The Klingon Bird of Prey - the most commonly seen Klingon ship therafter
It's the first time we see Earth Space Dock, the model for all other Space Stations
While the Klingon language was introduced in "Star Trek: The Motion Picture," this is the first time it gets a formal grammar and a very rich vocabulary.
NOTE: this is the first time I've ever written a movie review. In the future, I don't know that I'd write a synopsis as I did in this one. It's a lot easier to just write a review assuming whoever is reading it knows the movie well, and just jump into it. In fact, I would have spent more time with analysis had I skipped the synopsis, but I exhausted myself....
Phil Dreizen